Glaucoma
Beware of Glaucoma – A Silent Thief of Vision Facilities available at CSN Netralaya for Glaucoma
1.Diagnostic Aids-
A. Automated Perimetry with Humphrey Field Analyser
For Diagnosis of Glaucoma Visual Field is very important. In a glaucomatous eye,central vision is intact till late stage, but peripheral field of vision starts consticting and its appear that a person is seeing through a hollow tube so this kind of vision is also called 'Tubelar vision'. In tubelar vision, when patient looks straight, he cannot see the objects of side periphery and also up and down periphery.This loss of visual field is best detected by Humphray's Field Analyser which is considered as most advanced automated field analyser and which is available at our centre.
Image Showing Field Constriction from Lower side.
B. OCT(Optical Coherence Tomography) for Glaucoma Screening

Topcon's 3D Spectral All In One, OCT
Early Diagnosis of Glaucoma is very crucial in Glaucoma Management. Many a times Glaucoma can be diagnosed even before the Field changes with the help of RNFL & GCL Analysis done by OCT. So OCT helps in diagnosing Pre perimetric Glaucoma that is,Stage Of Glaucoma even before field changes. OCT also can measure Central Corneal Thickness & Angle Analysis for ruling out Narrow Angle Glaucoma. Our centre can boast to have world's best Topcon's most advanced 3D Spectral, All in One- OCT which can help early and accurate diagnosis of Glaucoma through -
(1) CCT Measurement
(2) RNFL Analysis
(3) GCL Analysis
(4) Measurement of Angle in terms of Degree.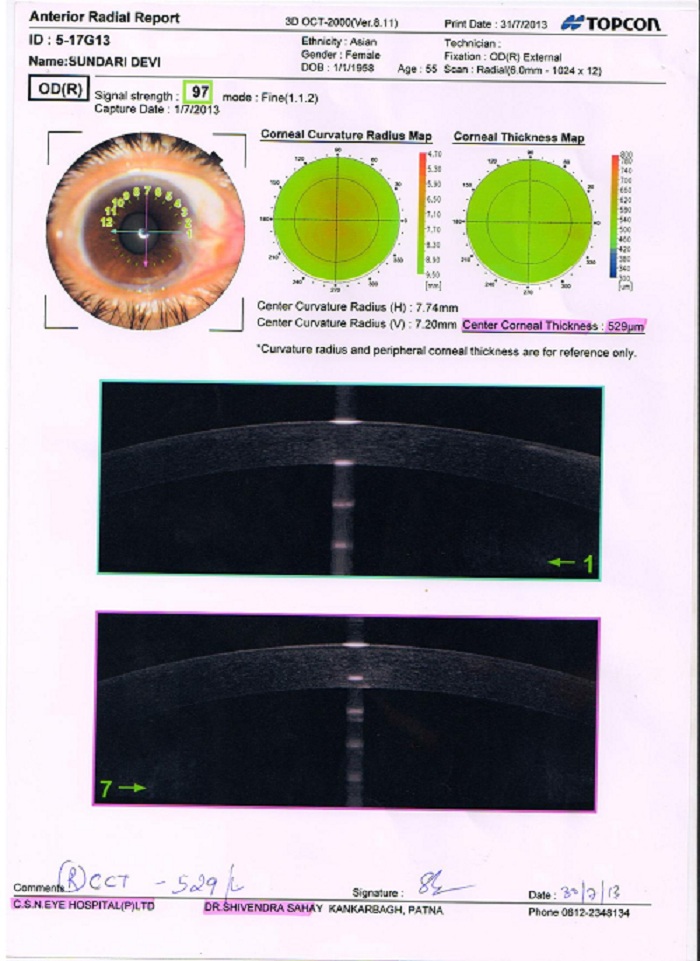 &nbsp&nbsp&nbsp&nbsp&nbsp&nbsp&nbsp&nbsp&nbspCCT Measurement &nbsp&nbsp&nbsp&nbsp&nbsp&nbsp&nbsp&nbsp&nbsp&nbsp&nbsp&nbsp&nbsp&nbsp&nbsp&nbsp&nbsp&nbsp&nbsp&nbsp &nbsp&nbsp&nbsp&nbsp&nbsp&nbsp&nbspRNFL Analysis&nbsp&nbsp&nbsp&nbsp&nbsp&nbsp&nbsp&nbsp&nbsp&nbsp&nbsp&nbsp&nbsp&nbsp&nbsp&nbsp&nbsp&nbsp&nbsp&nbsp&nbsp&nbsp&nbsp&nbsp&nbsp GCL Analysis &nbsp&nbsp&nbsp&nbsp&nbsp&nbsp&nbsp&nbsp&nbsp&nbsp&nbsp&nbsp&nbsp&nbsp&nbsp&nbsp&nbsp&nbsp&nbsp&nbsp&nbsp&nbsp&nbsp&nbsp&nbsp&nbsp&nbsp&nbsp Angle Measurement

Read More